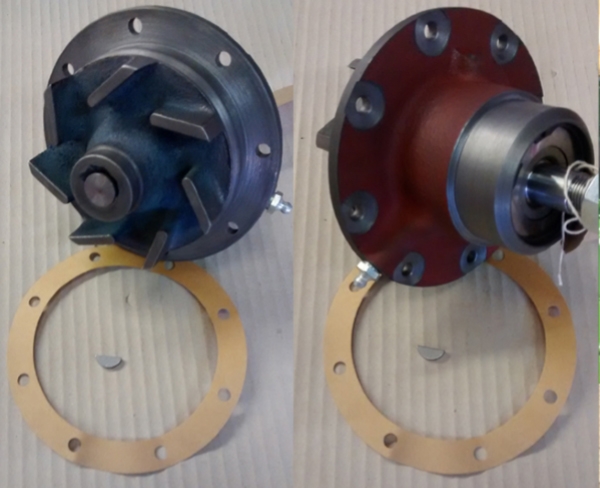 1958 Dorman L145BP generator is the "strongest ever built" according to Zimbabwean business owner of Harare-based Veldemeers Exquisite Belgian Chocolate.
It is not very often that Dorman Diesels receives enquiries from Zimbabwean-Belgian fine chocolate manufacturers. A recent email from a business owner requesting a water pump for a 1958 Dorman L145BP was particularly interesting.
Veldemeers Exquisite Belgian Chocolate was founded in 1997 (initially under the name of Chocolart), and for the first time in the nation's history, Zimbabweans were able to enjoy a far superior chocolate than was currently available. A small but important light relief for people caught up in the turmoil of Zimbabwe's turbulent history.
Life is hard for most Zimbabweans, and the economy is suffering from hyperinflation (running at 175% as of June 2019). In addition, taxes and tariffs are high for private enterprises such as Veldemeers. So the customer really appreciates just how robust and reliable the Dorman engine has been in his ownership:
20 years ago I purchased a 50 kva Dorman diesel generator (already second hand) in Belgium for my business in Zimbabwe. This machine has been a real work horse over the years. Having constant power cuts and load shedding in Zimbabwe – it kept my business going through difficult times. I know this is a very old machine, but compared with more recent generators, I think it is the strongest ever built. I would like to repair it in a correct way, and to keep it running for another long time! Would it be possible to still find an original water pump for this engine? Engine type is 4L – 127 and the serial number is 68287.
Clare Hogg, Director of Marketing and HR at Diesel Marine Group (which incorporates Dorman Diesels and Lincoln Diesels) explains:
We are aware that many of our customers across the world are completely at the mercy of runaway inflation and living costs in their respective nations. Although this gentleman's request was fairly simple, it was definitely one of the more unusual ones for Dorman due to the nature of his business in a developing economy. We have also just received a request from a neighbouring customer in South Africa for Ruston & Hornsby parts, and again, this highlights the scope and remote locations of these older engines, with contemporary uses ranging from farming to high – end confectionery production.

"It is fantastic news that this Dorman L145BP is still being put to good use, imagine the struggles of trying to make a business work in Zimbabwe, and then having to source parts quickly for a 62-year-old British-made engine!"
Jerry Tuplin of Dorman Diesels was able to offer the customer three separate solutions at different price points, with clear instructions, and even indicated the exact build date of the engine (16th September 1958).

We wish everyone at Veldemeers Exquisite Belgian Chocolate all the best for 2020 and long may the business thrive to supply exquisite chocolate to the people of Zimbabwe and beyond.
Dorman Diesels and Lincoln Diesels are independent specialists for marine and industrial diesel engine spares and service.