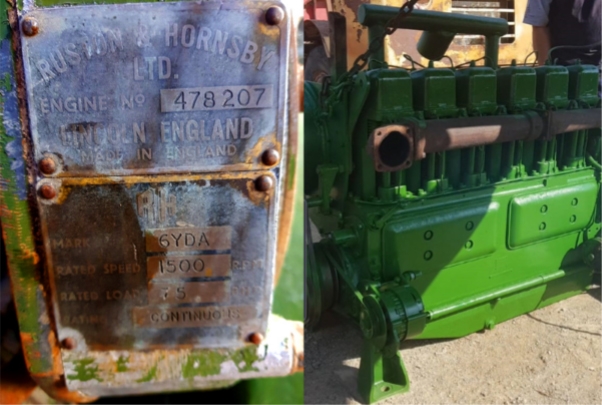 As 2019 was drawing to a close, Lincoln Diesels came to the rescue to help a stricken South African farmer and his seized Ruston and Hornsby 6YDA engine. Although it was originally built in 1959, this 6YDA is a critical power source in the production of animal feed on his farm. He explains the situation in his recent enquiry to Lincoln Diesels:
I am writing in desperation from South Africa.
I am a farmer in the Eastern Cape province of South Africa and part of my operations includes the processing of maize and lucerne to make feed pills for our animals. The engine that drives the operations is quite an old Ruston & Hornsby unit as per the attached pics.
The problem is that three of the pistons have seized and my entire operation has come to a standstill. I have made enquiries all across South Africa but without success … Can you please advise if your company can possibly supply or direct me, to a source, where I can find pistons for this old model?
Clare Hogg, Director of Marketing and HR at Diesel Marine Group (which incorporates Lincoln Diesels and Dorman Diesels) explains:
The staff at Lincoln Diesels were so relieved that they could help this gentleman and his livestock, it must have seemed as though Christmas had come early for him, when he was able to obtain the correct piston assembly kit for that engine. The fact that this enquiry was from so far afield, really highlights the massive reach of Britain's post-war export drive for heavy machinery from respected manufacturers such as Ruston & Hornsby, and also how many of these engines are still providing essential daily service. We act quickly in such situations and will assist our customers all across the world.
Lincoln Diesels and Dorman Diesels are independent specialists for marine and industrial diesel engine spares and service.