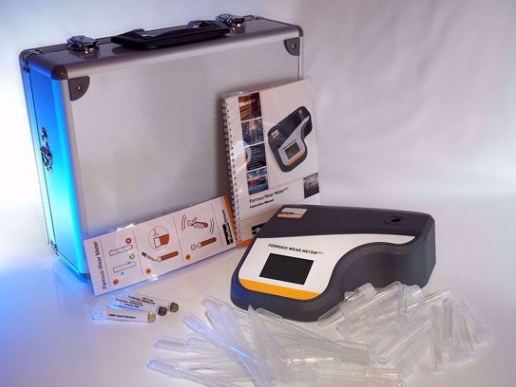 Mike Macnamara of Lincoln Diesels, who is based in Thailand covering Malaysia and the Philippines, and Alvin Poon of Simplex-Turbulo, who is based in our office in Singapore, have both reported strong sales of our Parker Ferrous Wear Meter over the last six months.
Alvin says that operators are keen to maintain business continuity in these difficult times and Parker condition monitoring products are in high demand:

"Since last December, we have so far supplied about 45 units of the Parker Ferrous Wear Meter (FWM) to clients in Singapore, with one operator purchasing 32 units for their fleet of vessels. This operator rates Parker condition monitoring equipment very highly, places a lot of emphasis on preventive maintenance, and favours using the FWM in particular. This simple-to-use test kit measures ferrous wear metal content in engine oil.
The client was also happy that we were able to ship the kits out from our stock in Singapore as we were able to respond to their enquiries and requirements promptly. They are so pleased with the product that they are now looking to install the Parker Liner Scan as a pilot project on one of their vessels (to be used with an onboard MAN 11K98MC engine). The client was so enthusiastic that they had initially wanted to install the system in March 2020, if not for the pandemic that prevented Parker engineers from performing the installation."
"We have sold the FWM to four other customers (one of which is looking to potentially purchase another eight sets). Following negotiations, we hope to supply the FWM to several more customers as well.""
In addition, sales of other Parker condition monitoring equipment, such as sample bottles and water in oil test kits, has also remained strong during the first half of 2020.
For more information on all of our Parker condition monitoring products, please click on the link to our online shop below: