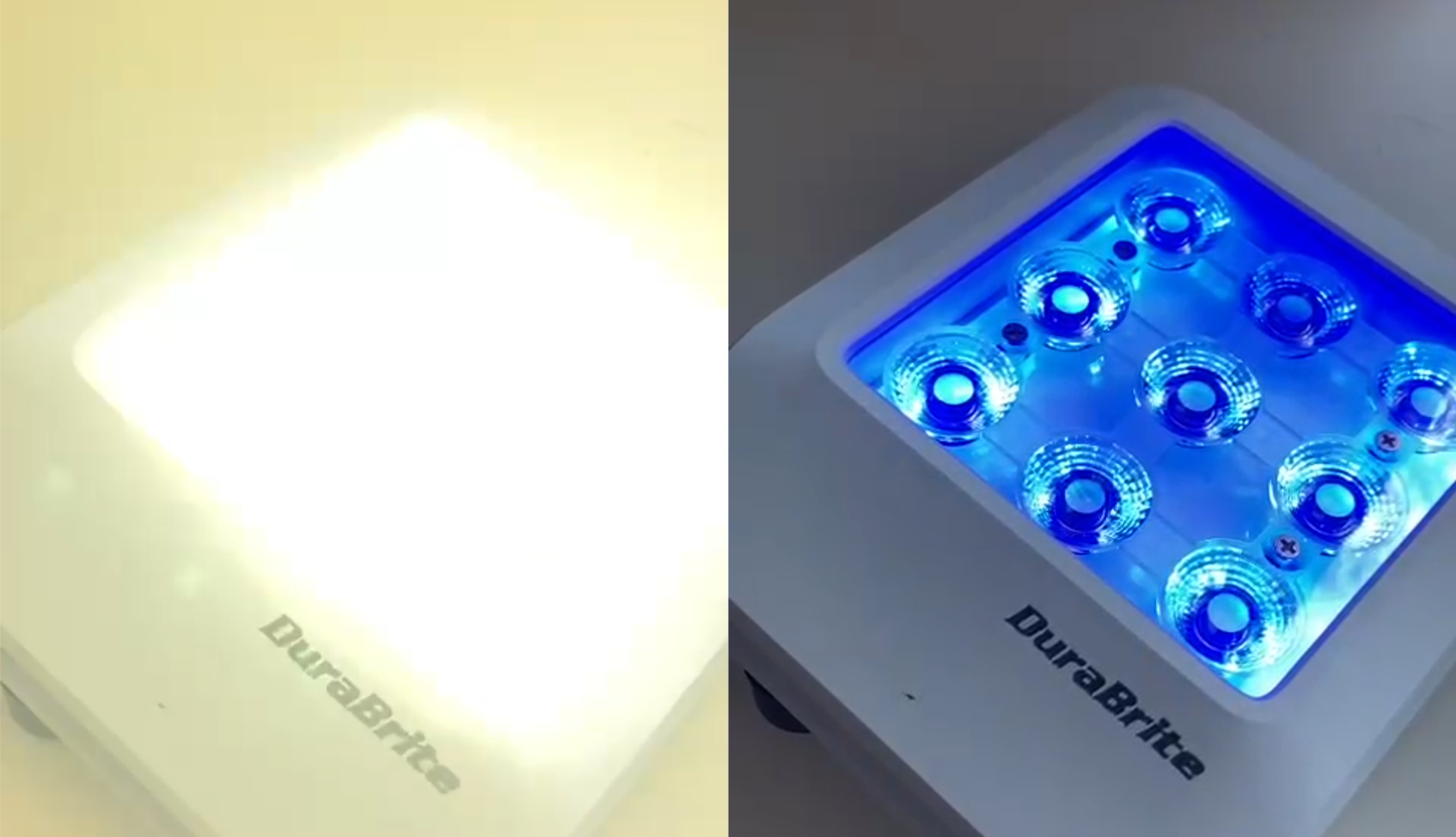 We're very excited to present the newest feature introduced in the DuraBrite Lighting world: the Dual Mode, enhanced controls enabling one light unit to provide two types of output.
From the marine industry to land-based installations, the versatility and resistance to harsh operational environments of DuraBrite LED lights has already performed outstandingly in a variety of applications. This new feature opens even more possibilities for new applications.

The Dual Mode feature is available for DuraBrite's Nano LED lights, the smallest product of the DuraBrite family, a portable yet extremely powerful unit. With this custom feature a single light unit can switch between two colours (e.g. white/amber, white/blue) or between modes (e.g. strobe, dazzler, signal, infrared, ultraviolet). The applications and customisation options of colours and modes provide as wide a variety as imagination can go!
By simply flicking a switch a floodlight can become a non-visible infrared light for military applications, a spotlight can turn into a dazzler to blind and slow down fugitives or smugglers, a police signal light can be switched to ultraviolet and reveal fluids in a crime scene. A particularly useful feature for the marine industry, the lights can switch between white and amber colours to cater for both clear and foggy weather.
We are submitting the Dual Mode to the Innovations Showcase organised by Seawork, the marine exhibition we're attending in Southampton in mid-June, as part of the European Commercial Marine Awards (ECMAs). Visit our stand at Seawork for a live demonstration of how this feature works and feel free to enquire about any specific features for lighting your business might have.

This innovative feature truly covers an extensive variety of applications and it can be requested as a custom feature for any DuraBrite Nano lights.
"If a customer can think of it, we can deliver it!"
Mike Morris, President at DuraBrite Lights
Watch this space to find out how DuraBrite Lights' Dual Mode does at the Awards.
Edit
Following up on the European Commercial Marine Awards unfortunately DuraBrite's Dual Mode
feature didn't make the Marine Equipment, Electronics & Materials category award, which went to Dacoma's brilliant Airkeel stabiliser. Congratulations to Dacoma and their "truly innovative stabiliser which prevents rocking and rolling, reducing the number of days that crews are unable to work because of rough seas.".
It was exciting to showcase our LED floodlights among such an array of innovative ideas. See you next year at Seawork 2024 for another tight competition!
https://seawork.com/newfront/news/2023-european-commercial-marine-award-winners-announced-at-seawork